#517 My Faith Looks Up to Thee
Words by Ray Palmer, 1830 (1808-1887)
Music by Lowell Mason, 1832 (1792-1872)
My faith looks up to thee,
thou Lamb of Calvary,
Savior divine;
Now hear me while I pray,
take all my guilt away,
O let me from this day
be wholly Thine.
May thy rich grace impart
strength to my fainting heart,
my zeal inspire!
As thou hast died for me,
O may my love to thee
pure, warm, and changeless be,
a living fire!
While life's dark maze I tread,
and griefs around me spread,
be thou my guide;
bid darkness turn to day,
wipe sorrow's tears away,
nor let me ever stray
from Thee aside.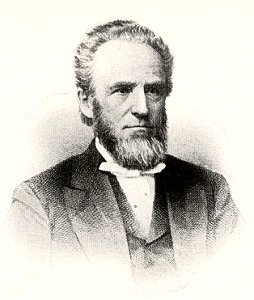 Born on November 12, 1808, at Little Compton, Rhode Island, Ray Palmer attended Phillips Andover Academy (where he and Oliver Wendell Holmes were classmates) and Yale University. After Yale, he taught at a young ladies' school in New York, then at a girls' college in New Haven, Connecticut. In 1835, Palmer was ordained as a Congregational minister, and pastored in Bath, Maine, and Albany, New York, serving 15 years at each location. Around 1865, he became Secretary of the Congregational Union. Palmer retired in 1878.
Palmer wrote this hymn in 1830. He wrote it for himself, privately, with no thought of having it published. "I gave form to what I felt in these stanzas.... I recollect I wrote them with very tender emotion, and ended the last line with tears." He carried the hymn around with him in his pocket for many years.
One day Lowell Mason asked him if he had anything that might be used in a new hymnal. Palmer produced the worn piece of paper. Mason immediately recognized its value, and within a few days had composed the tune, OLIVET, to match these words. Mason told a friend that whatever else Palmer might accomplish in a long life, it was this hymn that he would be remembered for. Time has proved Mason right.
His hymns include:
Hymns
1. And Is There, Lord, a Rest?
2. Away from Earth My Spirit Turns
3. Before Thy Throne with Tearful Eyes
4. Behold the Shade of Night Is Now Receding
5. Come, Ho­ly Ghost, in Love
6. Come, Jesus, Redeemer, Abide Thou with Me
7. Eternal Father, Thou Hast Said
8. Fount of Everlasting Love
9. Ho­ly Ghost, That Promised Came
10. I Give My Heart to Thee
11. Jesus, Lamb of God, for Me
12. Jesus, My Heart with­in Me Burns
13. Jesus, These Eyes Have Never Seen
14. Jesus, Thou Joy of Lov­ing Hearts
15. Lord, My Weak Thought in Vain Would Climb
16. Lord, Thou Hast Taught Our Hearts to Glow
17. Lord, Thou on Earth Didst Love Thine Own
18. Lord, Thou Wilt Bring the Joy­ful Day
19. Lord, when My Soul Her Se­crets Doth Re­veal
20. Mid Evening Sha­dows Let us All Be Wak­ing
21. My Faith Looks Up to Thee
22. O Christ Our King, Cre­at­or, Lord
23. O Christ, the Lord of Heav­en, to Thee
24. O Ho­ly Comforter, I Hear
25. O Jesus, Sweet the Tears I Shed
26. O Sweetly Breathe the Lyres Above
27. Stealing from the World Away
28. Take Me, O My Father, Take Me
29. Thou, Savior, from Thy Throne on High
30. Thine Holy Day's Returning
31. Thou Who Roll'st the Year Around
32. Thy Father's House! Thine Own Bright Home
33. Thy Ho­ly Day's Returning
34. Wake Thee, O Zion
35. We Stand in Deep Repentance
36. When Downward to the Darksome Tomb
37. When Inward Turns My Searching Gaze
38. With Thine Own Pity, Savior, See
39. Wouldst Thu Eternal Life Obtain
Ray Palmer died March 29, 1887, at Newark, New Jersey.