#532 Day by Day
Words by Carolina Sandell Berg, 1865 (1832-1903)
Music by Oscar Ahnfelt (1813-1882)
<![if !supportEmptyParas]> <![endif]>
Day by day, and with each passing moment,
Strength I find, to meet my trials here;
Trusting in my Fatherís wise bestowment,
Iíve no cause for worry or for fear.
He Whose heart is kind beyond all measure
Gives unto each day what He deems bestó
Lovingly, its part of pain and pleasure,
Mingling toil with peace and rest.
Every day, the Lord Himself is near me
With a special mercy for each hour;
All my cares He fain would bear, and cheer me,
He Whose Name is Counselor and Power;
The protection of His child and treasure
Is a charge that on Himself He laid;
ďAs thy days, thy strength shall be in measure,Ē
This the pledge to me He made.
Help me then in every tribulation
So to trust Thy promises, O Lord,
That I lose not faithís sweet consolation
Offered me within Thy holy Word.
Help me, Lord, when toil and trouble meeting,
Ever to take, as from a fatherís hand,
One by one, the days, the moments fleeting,
Till I reach the promised land.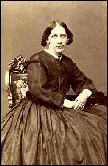 This is one of the 14 hymns that poured forth from the pen of Carolina Sandell Berg right after the tragic death of her father in a boating accident. She found comfort in putting her thoughts into verse, expressing an unswerving faith in the love and protection of a caring heavenly father. She has been called the "Fanny Crosby of Sweden" because she was stricken with paralysis at age 12.
Several of Carolina's poems were set to music and made popular by Oscar Ahnfelt, a "singing evangelist." Ahnfelt traveled all over the Scandinavian countries, singing these hymns to the accompaniment of his guitar. Once while visiting in the home of the famous soprano Jenny Lind, the "Swedish Nightingale," he told her he would like to publish a book of Carolina's songs. Ms. Lind was glad to finance the project.
Andrew Skoog, who translated the poem from Swedish to English, was born in Sweden but immigrated with his parents to St. Paul, Minnesota, at the age of 13. Although educated formally only through the sixth grade, he became successful in many different lines of work, from music to politics.
For more info please go to:
http://www.joyfulministry.com/day.htm