#618 Stand Up! Stand Up for Jesus!
Words: George Duffield, Jr., 1858 (1818-1888)
Music: George J. Webb, 1837 (1803-1887)
<![if !supportEmptyParas]> <![endif]>
Stand up, stand up for Jesus! ye soldiers of the cross;
Lift high His royal banner, it must not suffer loss:
From vict'ry unto vict'ry, His army shall He lead,
Till every foe is vanquished, and Christ is Lord indeed.
Stand up, stand up for Jesus! The trumpet call obey:
Forth to the mighty conflict, in this His glorious day;
Ye that are men now serve Him against unnumbered foes;
Let courage rise with danger, and strength to strength oppose.
Stand up, stand up for Jesus! Stand in His strength alone,
The arm of flesh will fail you, ye dare not trust your own;
Put on the gospel armor, and watching unto prayer,
Where calls the voice of duty, be never wanting there.
Stand up, stand up for Jesus! the strife will not be long;
This day the noise of battle, the next the victor's song;
To him that overcometh a crown of life shall be;
He with the King of glory shall reign eternally.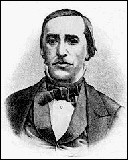 George Duffield, Jr. was born on September 12, 1818, at Carlisle, Pennsylvania. Duffield's father and grandfather were Presbyterian ministers. He graduated from Yale University in 1837, and from the Union Theological Seminary in 1840. Ordained a Presbyterian minister like his father and grandfather, he first pastored at the Fifth Presbyterian Church in Brooklyn, New York, for seven years. He then served at the First Church of Bloomfield, New Jersey (1847-1852), the Central Presbyteri­an Church of the Northern Liberties in Philadelphia, Pennsylvania (1852-1861). There he found a mortgaged church building in a neighborhood from which the population was moving westward, a congregation reduced in numbers, disheartened, and unable to meet its financial obligations. Duffield held on until 1861, when he resigned his pastorate. He later served at Adrian, Michigan (1861-1865); Galesburg, Illinois (1865-1869); then Saginaw City, Michigan, 1869; and Ann Arbor and Lansing, Michigan (from 1869). Hymnologist Samuel Duffield was his son.
The Reverend Dudley Atkins Tyng was an ardent opponent of slavery, but the majority of his congregation in the Epiphany Episcopal Church in Philadelphia were slave owners, and they forced his resignation. However, he was induced to continue his revivalist preaching in Jayne's Hall, and had great success. One Sunday in 1858 he preached to an audience of 5,000 people; more than 1,000 of them signed a pledge indicating their conversion. The following Wednesday, Tyng was in the country looking at a piece of farm machinery when his sleeve was accidentally caught in the cogs. His arm was dragged into the machine and torn off, the serious injuries proving fatal. Knowing his end was near, he sent a last message to the Young Men's Christian Association in Philadelphia, "Tell them to stand up for Jesus." His friend, George Duffield Jr., was inspired by Tyng's dying words, and wrote this hymn as an exhortation, using it in the funeral sermon preached the following Sunday, April 25.